I went to
the Duval County Veterans Memorial Wall
with some flowers about two hours ago to pay my respects. I brought my camera because I thought surely there would be something to commemmorate one of the most significant days in American history.
I was wrong.
The Duval County Veterans Memorial Wall was built in 1995, to remember the local heroes who have made the ultimate sacrifice for our freedoms. It dates back to World War I, and includes World War II, the Korean War, the Vietnam War, the Gulf War, and now, the Global War on Terror. There are more than 1500 names on the wall.
I've long worried that the date of December 7 has become less and less important to our country over the years, a thought that saddens me greatly. I wasn't alive when it happened, but I grew up knowing of the attack and what it meant for this country. I could no sooner forget that date then I could forget 9-11. Does the fact that no one was there mean anything? Not necessarily, but I was a little disappointed to see not one person there to pay their respects to the sacrifices of the fallen from WWII. I was a little disappointed to know that the meager bunch of flowers I brought would be the only ones there (aside from a wreath placed under the new addition of names for the War on Terror).
I took some pictures, and here they are. I've always found the Memorial Wall to be incredibly moving in its somber simplicity, and I can almost never visit without tearing up, a little (and some times more than others!).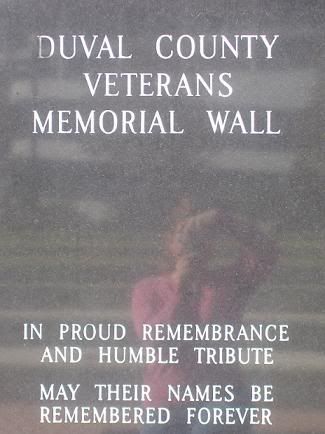 Engraved underneath the eternal flame.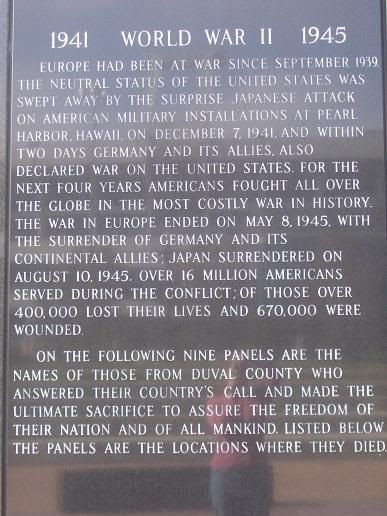 Each war has a plaque explaining how we came to be a part of it.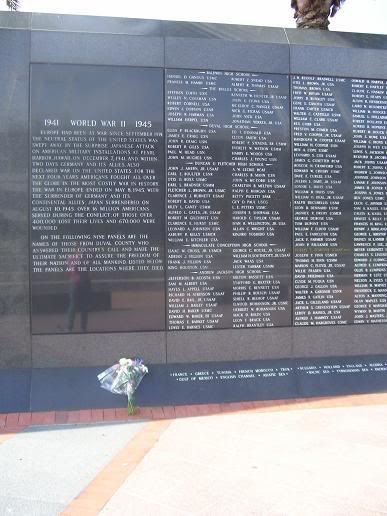 WWII has, by far, more names than any other -- there are nine plaques in total.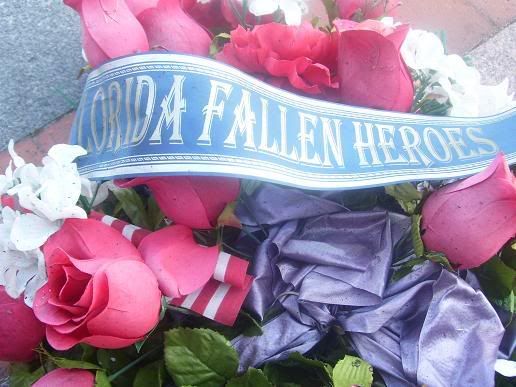 A wreath left at the base of the portion for the War on Terror.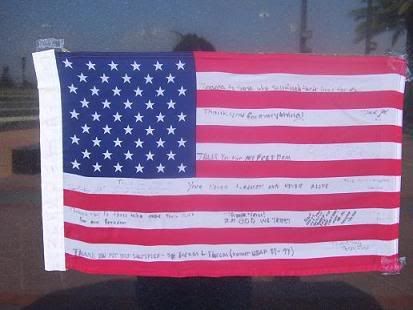 This flag had messages written on it of gratitude and love.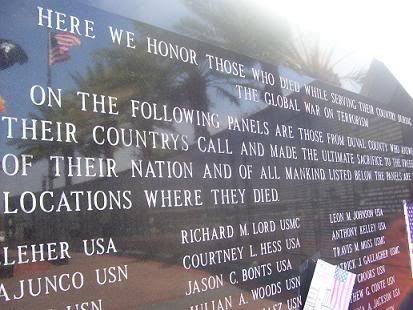 The newest addition to the wall: a stand-alone section for the War on Terror.
The eternal flame, with the American flag, the state of Florida's flag, and a flag for those who are POW/MIA.
The entire wall.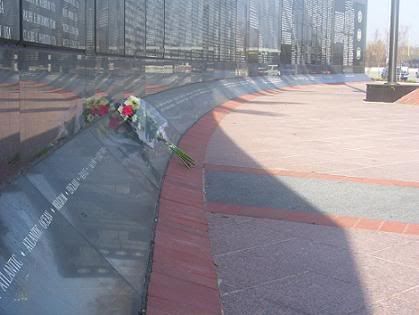 My flowers, all by themselves.
Please make sure you take a moment today and remember Pearl Harbor. If you know or see a WWII veteran, thank them (or thank any veteran, for that matter). If you have a memorial in your hometown like mine, stop by. Bring flowers if you'd like. Whichever way you choose to do it, make sure you take some time today to pay your respects for those who made the ultimate sacrifice on a day, 66 years ago, that forever changed our country.