So I was told by a couple of liberal tolls, indignant over
my re-posting
of
Mary Katharine Ham's
debunking of the media manipulation of Obama's newest rally.
Hmm... well, what my weight has to do with media manipulation of the attendance at Obama's rally in North Carolina is beyond me. But that's how liberalism works, right? You have no facts and no valid argument to make, so just make childish personal attacks and smears!
Here are the comments, straight from the trolls themselves:
Akeitay:
Wow, talk about a bitter far-right blogger.

...

Get over it, fatty.

Akeitay:
God, you're a whale. ROFL. Hate to break it to you, hunny, but liberals don't WANT to date you. You look like a red-faced, freckled elephant, and that isn't particularly attractive.

I guess us crazy liberals put more emphasis on excercise than conservatives. LOL.

Grebrook:
Dude, she's fat. LOL. And she goes and gives this pathetically condescending interview about how she doesn't date liberal men, as if liberal men really care? It's kind of like a black guy telling the KKK "nah, you're not good enough for me to be a member". They're not exactly inviting him in.

Cassy, you're fat, seriously. Until you lose weight, I think it's safe to say that you don't have much room to talk about "liberal idiots" if you're not intelligent enough to stay healthy.

Grebrook:
Rofl, do you actually read this blog? This girl is a walking cliche. A fat, white angry Republican ...
Fat? A whale? Come on guys, couldn't you come up with anything better than that? I mean, really. That's like, the most boring, unoriginal insult in the book. Try a little harder next time. Please.
The funny thing is...
I'm not fat
. Unless, of course, something like this is your standard for "healthy" and "attractive":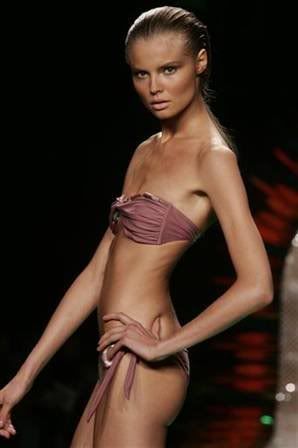 Um, yeah. Compared to that, I guess I am a whale. Heaven forbid I eat three meals a day, get moderate exercize, and wear a size 8. And I can't help the fact that God gave me really, really big breasts. They started growing when I hit puberty and kind of never stopped -- and they don't get smaller, no matter how much I work out (believe me, I've tried). So, it's a little bit beyond my control.
But hey, let's compare fat l'il me to the "healthy" model above. Here's the most recent picture of me I have, taken this Sunday at a minor league baseball game.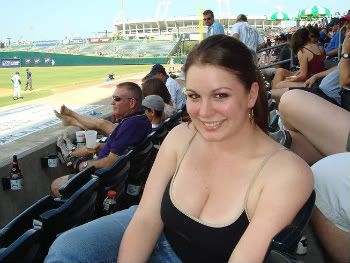 Now, which one of those two pictures do you think depicts a healthy woman? I would venture a guess that it's me. The funny thing is that I used to be much, much more athletic than I am now. At my peak as a rower, I was in better shape than some football players were. My crew team had practices six days a week, three hours a day. We rowed, we ran, we did calisthenics, we lifted weights -- and, may I point out, the exact same weight circuit the guys were expected to do. Every girl on that crew, me included, had six packs, strong shoulders and backs, and rock-solid legs. And honestly, while being in such good physical shape was nice, I prefer my body now. I like being curvy. I like having a softer, more feminine body. I didn't think it was particularly appealing to have a body that was hard with all sharp edges. I like having a curvy figure that yes, is maybe less athletic than it used to be, but is much more feminine -- and not really unhealthy at all. So I'm not a size two. So a few stupid libtards think I'm a whale. Who gives a shit? They're probably pimply-faced, overweight nerds hacking away at a computer insulting bloggers because they have nothing better to do in their sad, miserable lives.
I really considered not writing this post. But I figured, what the hell. The thing is, there are plenty of these little asshole men running around criticizing women left and right over their weight. Celebrities get called fat for even the smallest amount of cellulite or the slightest weight gain -- usually by men. Men's magazines regularly prominently feature very skinny women in very skimpy clothing, usually complete with protruding rib cages and fake breasts. Women's magazines seem to use the same models. Magazines like Cosmo and Glamour constantly decry the media's use of too-thin models, but continually feature them in their fashion spreads and stories.
Yet somehow, men never get quite as criticized for their weight. Overweight or obese celebrities are never told by celebrity gossip pundits how fat they are or how disgusting they find them. That kind of vitriol seems to be reserved for women only -- why is that??
The worrisome part is that this kind of extreme criticism of women for their weight, and the high standards being put forth in our society, is having a very unhealthy effect on women today.
Anorexia
is on the rise for women of varying ages -- and women are 3 times more likely to get the disease than men are. In the year 2000, the number of women with eating disorders had doubled in less than three decades. Women struggle with negative body image every day -- barbs like the ones thrown at me usually leave deep wounds -- and what is it that these assholes think they are accomplishing? Does it make them feel big to put women down, to try to make them ashamed of their bodies? Why do so many [liberal] men seem to feel the need to make such personal attacks on women, and especially attacks concerning appearance? Michelle Malkin could probably write a damn dissertation on this subject.
Of course, as I said earlier, this is common practice. Whenever a libtard like these two can't come up with an intelligent response, they resort to personal attacks because they know they have nothing to add.
Also, why is the entertainment industry promoting such an unhealthy ideal? It's bad enough that there are people who look at Kate Moss and think "normal" and look at me and think "fat", but are they completely unconcerned about the effect this has on their audience? Does it not matter to them that they are forcing such an unhealthy lifestyle down people's throats?
There's nothing wrong with women having a little meat on their bones, and they shouldn't be made to feel ashamed of it by a cutthroat entertainment industry, insecure, immature, asshole libtard bloggers, or anyone else. What puts these two in a position to criticize mine or anyone else's weight, or their perception thereof? These are small, unintelligent people indeed. It's one thing to disagree with me, and express a different opinion like an adult. But attacking me and/or my personal appearance is arguing like a five-year-old.
But that really sums up how liberalism works, doesn't it?