I stumbled across it and watched it over and over and over again, trying to figure out how many "improvements" they had to make on this girl. First it was the hair and the make-up, and then the Photoshop. For what it's worth, I didn't see anything worth changing after her hair and make-up had been done. But no... they gave her bigger lips and eyes, elongated her neck, slimmed down her shoulders and cheeks... it's just unbelievable.
I understand these companies are only out to sell their product, but I applaud Dove's Campaign for Real Beauty. Do these executives ever once stop and think about what they're doing to women? About the message they're sending? I think I'm a decent looking woman -- not the hottest thing around, but I think I'm all right. However, I could never,
ever
measure up to that final picture, for example, or any model. It's because I'm real, and (most of the time) I'm glad I am. I don't know that I want to be a size 2 so badly that I'd starve myself, and I like having curves. But at the same time, it is hard to ignore that twinge when you are at the grocery store and see some girl with a tiny waist, perfect boobs, "bed me" eyes, and a full mouth on the cover of Cosmopolitan, accompanied by a headline telling you how to get that look. When you're as inundated as we are today by these ideals of what beauty should be, it takes a lot of confidence and willpower to not doubt yourself. Not all women possess that confidence and willpower. So they work out seven days a week. They won't leave the house without taking an hour and a half to make sure their hair is perfect and their make-up disguises what they really look like (the make-up thing in particular annoys me more than anything else). Some might not eat. Some might throw up what they eat. And all in the name of unattainable beauty that some marketing executive for a clothing line or make-up company thinks we should strive for.
Um, no thanks.
I don't know what there is we can do to change this, but something has to change. It isn't healthy, and it isn't right. I understand wanting to have your product sold by a beautiful woman, but it's being taken way too far. Take the model above. Did she need that much work done? Obviously, she doesn't look anything like the finished product, but she didn't look bad to begin with, either. She looked like the girl next door. And even after doing her hair and make-up, it wasn't good enough. To be considered beautiful, you have to drop reality and look more like a frozen mannequin at a department store, complete with slender body and a frozen, shiny face.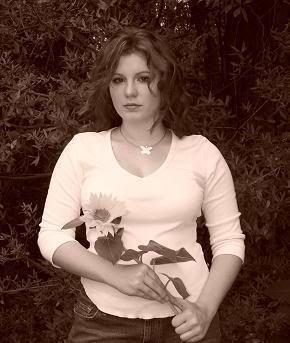 This is me. This is what I look like. That photo was taken by a friend of mine in front of some trees behind her apartment building. She wanted to play around with her camera and needed a "model", so I took about twenty minutes to throw on some make-up and we did a ten minute "photo shoot". But these people would have a laundry list of complaints, I'm sure. Not tall enough (5'2"), not skinny enough (size 8), not made-up enough (I still look like myself), not tan enough (I'm not interested in frying myself to skin cancer)... I'm sure they could have a field day with me on Photoshop. Make my eyes bigger, my nose smaller, my lips fuller... who knows. The thing is, most women will have more in common with me than any model on any billboard, and is there something wrong with that? We aren't all 5'10" and 115 pounds with a C cup rack and perfect hair. I'm a real women, and I don't have a problem with that. But sometimes, I think these executives want me to. I think they want women to loathe their bodies and the way they look. Then, they'll be even more eager to buy loads of make-up, spend money on laser hair removal and plastic surgery, spend every free moment at the gym, and drop cash on weight-loss programs. But it just isn't healthy. It's just not right.
Seriously... at what point does enough become enough? Will there be a day when we can just appreciate people for who they are and what they actually look like, rather than an ideallized version of it? No one's perfect. But these companies are telling women that we need to be, and that needs to stop.
The only question is, can it? Or is it too late?