Now that my eyes have been opened, thanks to the callous treatment of my emotions and my body by John Hawkins, I've been carefully thinking about who I want to endorse for President. It couldn't possibly be some warmonger Republican like John McCain, who just
loves
to bask in his own masculinity.
No... I think the best person for President is Hillary Clinton. She's had so much experience! And you know, she really understands women's issues, the most important thing to me now. I know that with Hillary in the White House, I'll be free to fornicate to my heart's desire without ever having to worry about dealing with the repercussions, thanks to the wonder of abortion.
Not only do I want Hillary to be the next President, I want her to be my next partner. As I've decided to be a lesbian now, I think that Hillary is just the perfect women. The smooth, baritone flow of her voice, her perfectly coifed hair, the way her pantsuits flow just right over her round bum... who
wouldn't
want Hillary? I know I do. She just
oozes
sensuality. And when she laughs, that gentle, beautiful laugh, I can feel the sun come out.
So, I am now officially endorsing Hillary Clinton for the next President of the United States. Hopefully, one day I can stand by her side as First Lady, instead of that horndog Bill.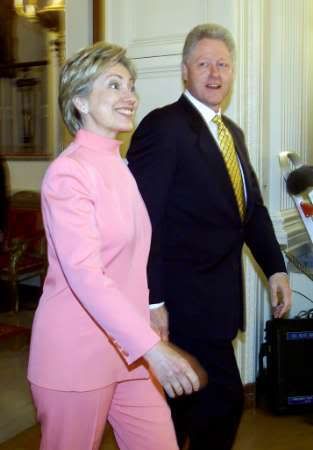 We'll be together one day, my lovely little political pudding.