Last Saturday, I attended the
Annual Coast Guard Appreciation Day
at Bing's Landing in Palm Coast, Florida. The event was hosted by the U.S. Navy League, and featured lots of great entertainment, including a performance by the Navy Southeast Ceremonial Band. There were also several displays and demonstrations, such as an interdiction of counter-narcotics, a helicopter rescue, and a Coast guard bomb-dog team demonstration. Proceeds benefitted the Northeast Florida Chapter of the Chief Petty Officer's Association.
Personnel from the following sectors were present: Coast Guard Sector Jacksonville, Coast Guard Helicopter Interdiction Tactical Squadron Jacksonville, Coast Guard Air Station Savannah, Ga., Coast Guard Station Mayport, Coast Guard Maritime Safety and Security Team from Kings Bay, Ga., and Coast Guard Aids to Navigation Team Jacksonville Beach.
Ensign Michael Arnett was my escort for the day, who is stationed at Sector Jacksonville. He is part of the Vessel Boarding and Security Team, which put on one of the demonstrations.
Here are some of the pictures from the event, which was extremely well-attended. It was great to see the Coast Guard get such support and appreciation from local residents.
Me with a few Coast Guard vessels in the background.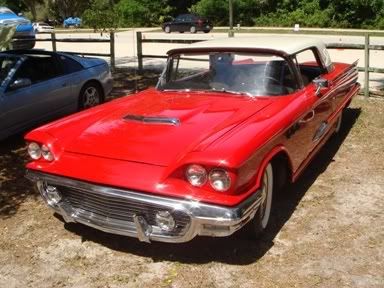 A Thunderbird on display along with several other classic cars.
One of the demonstrations of the day -- a rescue swimmer jumps out of a HH-65 Dolphin Helicopter and in these pictures, is being hoisted back in.
Sector Jacksonville Vessel Boarding and Security Team preparing for a law enforcement boarding demonstration.
Suspects have given up due to the presence of a Coast Guard helo and boarding team en route.
A Coast Guard utility boat on display.
A pirate attending chats with a Coast Guard Petty Officer.
A construction tender and aids-to-navigation vessel on display.