Hello all,
Sorry for the few days off -- some family surprised us all by visiting from Massachusetts. So between working and time with them, I just didn't have the chance to blog much the last few days.
Yesterday, we all went to the
Jacksonville Zoo and Gardens
. The Jacksonville Zoo is spectacular -- if you're ever in the area, definitely stop and make a visit. There is really just so much to see and do there -- it's by far one of the best zoos in the country. Anyways, I have some pictures from that trip, so here they are, enjoy, and I will be back to regular blogging tomorrow!!
Me with my cousin Kristen at the Wild Florida exhibit.
Me with the giraffes at the Africa Loop.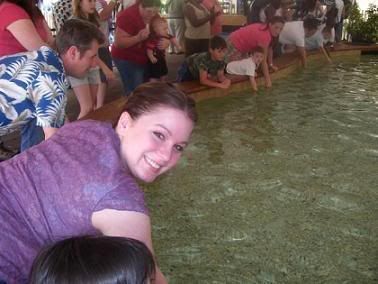 Me petting stingrays at the newest exhibit, Stingray Bay.
Me at the Lost Temple in the Range of the Jaguar exhibit.
Feeding nectar to lorikeets in the Australian Outback exhibit.
Petting goats at the petting zoo.