Remember the Flying Imams? For those who aren't familiar, let's recap from a column I wrote
in December:
By now, everyone has heard the story of the six Muslim passengers escorted off a United Airways flight, after making numerous passengers and crew nervous through their incredibly suspicious actions. Prior to boarding, the six men gathered together in the waiting area to pray – twice – before yelling, in a quiet environment, "Allahu Akhbar!". In case anyone has forgotten, those are the infamous words also spoken by the hijackers on the four planes as they were taking over the flights. It is also what was shouted as Nick Berg was beheaded. I could go on and on, but why bother? That's not a real offense, when you think about it. Enough to make you nervous, sure. But nothing to get kicked off a plane over, right?

The story only gets more bizarre.

The six men, who waited together, prayed together, and boarded together, proceed to spread themselves out along the plane – very similar to the positioning of the terrorists on the fateful 9-11 flights. An Arabic-speaking passenger reported that the men repeatedly invoked the name Osama bin Laden and spoke of terrorism and condemned America for "killing Saddam". This same passenger was one of the passengers who pulled a flight attendant to the side and reported what he had heard. Several of them also asked for seatbelt extenders, only needed for passengers 280 pounds or more. One of the men told police he was, in fact, 280 pounds – but weighed in at much, much less (201 pounds). In fact, none of the men were 280 pounds – the weight of the men ranged from 170 – 250 pounds. Passengers reported that none of the men even fastened the seatbelt extenders. They placed them underneath their seats. What, pray tell, did they need them for? And yet another passenger reported to police that one of the men complained that some nations did not follow "shariah law" and that his job in Bakersfield, CA was a cover – for "representing Muslims in the US".

Oh, another fun fact – all of the men had one way tickets and no baggage.

The captain made the decision to have the men escorted off the plane based on many complaints from many different passengers, as well as consulting a federal air marshal, a U.S. Airways ground security coordinator and the airline's security office in Phoenix.

And now, of course, the Muslim men are crying foul. They are saying they were removed from the plane on a basis of racism, and that they disturbed no one on the flight.

A US airways investigation, as well as two other independent investigations, have determined the crew handled the situation correctly.
Of course, they six flying imams flipped out. They filed lawsuits against US Airways and the "John Does" who reported the suspicious activity, CAIR had a field day, and if I remember correctly, even had a Muslim pray-in at the airport to "combat racism" because they weren't acting suspiciously at all, and the people who reported them were being racist.
This prompted Michelle Malkin's
John Doe Manifesto
. I'll post a few little excerpts here, but make sure the read the entire thing.
Dear Muslim Terrorist Plotter/Planner/Funder/Enabler/Apologist,

You do not know me. But I am on the lookout for you. You are my enemy. And I am yours.

I am John Doe.

...

I will never forget the example of the passengers of United Airlines Flight 93 who refused to sit back on 9/11 and let themselves be murdered in the name of Islam without a fight.

I will never forget the passengers and crew members who tackled al Qaeda shoe-bomber Richard Reid on American Airlines Flight 63 before he had a chance to blow up the plane over the Atlantic Ocean.

I will never forget the alertness of actor James Woods, who notified a stewardess that several Arab men sitting in his first-class cabin on an August 2001 flight were behaving strangely. The men turned out to be 9/11 hijackers on a test run.

...

I will not be censored in the name of tolerance.

I will not be cowed by your Beltway lobbying groups in moderate clothing. I will not cringe when you shriek about "profiling" or "Islamophobia."

I will put my family's safety above sensitivity. I will put my country above multiculturalism.

I will not submit to your will. I will not be intimidated.

I am John Doe.

Pass it on.
Anyways, all of this culminated in a "John Doe" Amendment to protect Americans from frivolous lawsuits who report suspicious activity.
Guess who voted it down in both the House and the Senate.
Yep, Dems. In the Senate, NO Republicans voted against the amendment. Surprisingly, Shrillary voted for it while Obama sat out.
House leaders reacted:
"This is a slap in the face of good citizens who do their patriotic duty and come forward, and it caves in to radical Islamists," said Rep. Peter T. King, New York Republican and ranking member of the House Homeland Security Committee.

Mr. King and Rep. Steve Pearce, New Mexico Republican, sponsored the provision after a group of Muslim imams filed a federal civil rights lawsuit against US Airways and unknown "John Doe" passengers. The imams were removed from US Airways Flight 300 on Nov. 20 after fellow passengers on the Minneapolis-to-Phoenix flight complained about the imams' suspicious behavior.

"Democrats are trying to find any technical excuse to keep immunity out of the language of the bill to protect citizens, who in good faith, report suspicious activity to police or law enforcement," Mr. King said. "I don't see how you can have a homeland security bill without protecting people who come forward to report suspicious activity."

"We have always said that any discussion of September 11 in any way, shape or form would be made on sacred ground, with reverence to those who were lost," said House Speaker Nancy Pelosi, California Democrat.

"We promised you answers, and we promised you a safer America. Hopefully, this legislation will fulfill the rest of the promise," Mrs. Pelosi said.

Florida Rep. Adam Putnam, chairman of the House Republican Conference, said failure to enact the provision will hold "the threat of endless litigation over the heads of the American people."

"Democrats are discouraging citizens from reporting suspicious behavior. And that, simply, leaves America vulnerable to terrorist attacks," Mr. Putnam said.
Nancy Pelosi is promising a safer America while simultaneously refusing to protect Americans for speaking up?!
If Dems had their way, United 93 would have been successfully hijacked. Richard Reid would have blown up that plane midflight over the Atlantic. People will be much less willing to speak up or act against suspicious behavior when the threat of litigation is hanging over their heads! And for actual terrorists, they know that if their act is foiled, they can just sue us and claim innocence.
And they wonder why we question their patriotism, despite their siding with the enemy time and time again.
It's not over yet -- Republicans have sworn to reintroduce the amendment. Therefore, keep the pressure on. Contact your Congressman/woman and your senators. Contact Harry Reid and Nancy Pelosi. Since they aren't willing to act based on what is in the best interests of the country, then hit 'em where it hurts and protest. Let them know this can and will hurt their political career.
Congress switchboard: 202-224-3121
Nancy Pelosi's office: 202-225-4965
Harry Reid's office: 202-224-3542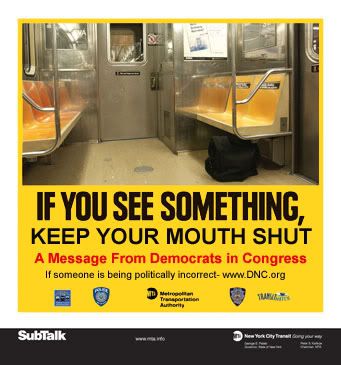 Image from Justin at Right on the Right