Like that's a huge surprise. All she's famous for is being Paris Hilton's shopping buddy and starring in a raunchy sex tape.
Playboy was bound to follow:
Kim Kardashian is getting klassy!

The amateur pornographer shot a pictorial for Playboy magazine Wednesday in Los Angeles, sources reveal exclusively to PerezHilton.com.

Music video director Hype Williams was behind the lens. No word on when the images will hit the magazine or how much (or little) Kardashian was paid.
Does this surprise anyone? She's not famous for anything, she isn't special or different from anyone else except that she's rich and has a nice ass. However, like all pampered, spoiled celebutantes, she wants to be famous, and is surrounded by enough "yes" people to believe that she is special and different and talented, just like Paris Hilton. And the easiest way to become a household name without actually doing any work is by either releasing a sex tape or posing in
Playboy
.
I read a quote somewhere years ago. I think I was still in high school when I saw this, but it really struck me. I don't remember who said it or why, but I just for whatever reason have always remembered it, because it is so relevant to celebrities today:
People used to be famous for being special. Now, people are special because they are famous.
And isn't that really the case? 75% of celebutards in Hollywood are not that talented. They're famous because they're famous; famous as much for who they are dating, or how often they were photographed with nip slips or without underwear, or who they are feuding with, as they are for their latest CD or movie or TV show.
And yes, I know -- I guess in a small way I am contributing to that. As much as a I loathe Hollywood, I'm addicted to the gossip.
But, anyways, Kim Kardashian is determined to become famous, and the next pit stop on the road to fame is
Playboy
, so keep your eyes peeled.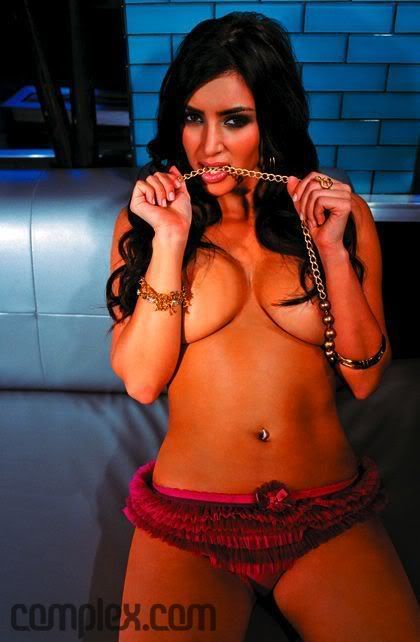 A preview of what's to come?