Growing Up Gotti
and
But Can They Sing?
star Carmine Gotti Agnello is
releasing a rap album:
When Carmine Gotti Agnello (Growing Up Gotti, Can They Sing?) turned 21, he got a fancy party thrown for him by (who else) his mother Victoria and was presented with a gigantic bottle of Sex Vodka. But there was a not-so-hidden agenda behind last night's soiree held at the China Club, which offered a lavish open bar and a spread of catered food for his guests (the canolis were off the hook, Carmine!). This event was intended to let those closest to the Hottie Gotti know that he's donned a rapper alias, C.Gotti, and is involved in a joint venture with Ruff Ryders (DMX, Jadakiss, Cassidy), who've produced his forthcoming opus.
Oh, puh-lease. What is it with Hollyweird celebrities thinking they can do anything and everything? And this guy barely counts as a celebrity. C. Gotti?
Really?!
What the hell could he possibly rap about? Self tanner, hair gel, and waxing your eyebrows?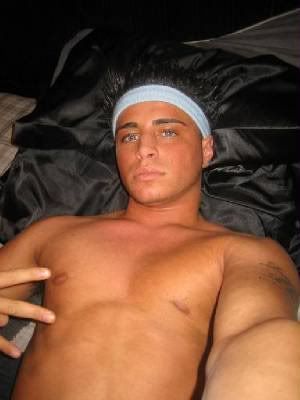 Future rapper C. Gotti