This was the main banner today on Rosie O'Donnell's website,
Rosie.com
: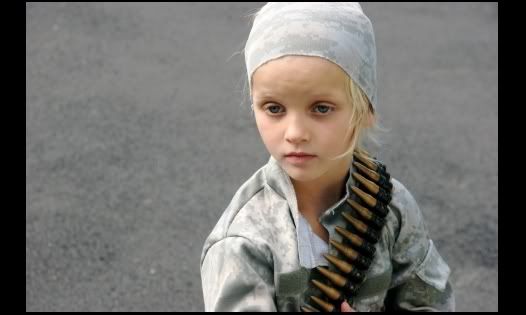 That is Rosie's youngest daughter with bullets strapped around her. We all know Rosie abhors guns, war, and hunting -- remember her blowout on her original "Rosie O'Donnell Show" with Tom Selleck over the NRA?
So gee, what could she be putting bullets around her youngest daughter, taking a picture, and then posting it as the main banner on her website? Could it be to send a political message?
Noooo!
Rosie would
never
exploit her daughter like that!!
Here are some of the comments left expressing awe, admiration, or apparently, an uncontrollable impulse to cry hysterically at the site of bullets on a child. The asterisks are mine, of course.
KARLA
RO, I AGREE WITH U ON MOSTLY EVERYTHING. BUT SOMEHOW I FOUND THE PICTURE OF VIVI DISTURBING. I DON'T EVEN LET MY CHILDREN PLAY WITH ANYTHING SIMILAR TO THAT. IT'S JUST A COMMENT. BUT OH WELL!!!!!!


Jessi
My god... . that picture. I can't stop crying. This war is such bullsh*t.


Joanne
OH SNAP! That picture of VIVI is so real, that it is scary…to think, places in the world children are trained to kill, dressed like that. SHOCK AND AWE! WOOP THERE IT IS! Dear God!


Jessika
Oh, WOW Vivi looks beautiful.! the fact that U let her explore her imagination like that shows what a good mom U R. In some countries though, they are training terrorists that young, how sad is that?


Steven
Powerful picture on your header. What we need to be focusing on, instead of you know who. Love it. I can see the negative comments flowing in.
There are more comments, of course, but they are just more of the same.
I don't know what point Rosie is trying to get across with that picture, considering we all know how much she hates guns. And, funnily enough, which countries are known to use children as ammo in war? Hmm... not the USA!
I'm sure Rosie would disagree, though. Or say something along the lines of, "American oppression is what makes these freedom fighters become forced to use their children, who they love so dearly, to fight against oppression. If we would just pull out of Iraq and Afghanistan immediately, they will no longer be oppressed and we can save the children. SAVE THE CHILDREN!!"